Facebook, the social media giant, is the leading generations one of the most favourite app. From a kid to a senior citizen, every person is on Facebook these days. It's easy to use and helps people to get in touch with their loved ones. Having such popularity, it offers high privacy too. Whenever someone harasses you or sends you inappropriate messages, you can block them. However, if any of your loved one blocks you after a fight, you can still see their profile.
Every social media asks for password and email id whenever you log in to your account. This sometimes gets irritating when you have to fill your passwords again and again. Therefore, Facebook, a social networking site available in different languages, came up with an option of saving passwords so that you can login with just one tap. Remember, you can log in with one tap only on the device you saved your password. So, people now either saved their passwords or just never logs out of their account. Also, saving password doesn't mean Facebook will show you your password.
Because of saving passwords, people usually forget them when they don't type it in a long time. Most of the Facebook users have experienced this issue since its launch. Now, what if you ever log out of your Facebook? What if you change your smartphone and may want to log in your account there? For such reasons, we have come up with some easy ways how you can see your password while logged in to your account.
How To See Your Facebook Password While Logged In
Google Account-Password Manager
This is one of the easiest way to see your social media passwords while logged in. You must have your google account connected to your account whose password you want to see. You can save your social media passwords to your Google account and can access them later anytime you want. Follow the steps below to know how you can see your Facebook password while logged in.
Open your computer or smartphone and go to chrome or safari.
Type https://passwords.google.com/ or you can copy it from here.
Now, enter the email and password of your google account. If you don't remember your password, you can also recover it by clicking on the forgot your password option.
After that, it will show you a list of your social media passwords saved on Google Password Manager.
Scroll down to find Facebook or simply type Facebook on the search bar appearing on your screen.
After finding Facebook, tap on it. It will display all your Facebook accounts with password under them.
At last, click on the eye icon placed along with the copy option and you will be able to see the password. You can also edit the password and delete it from your Google Account's Password Manager.
Google Chrome Saved Passwords
We know that Google Accounts save social media passwords, but, did you know that browser do that too? This is a great benefit for people who generally forgets their password. You can access your passwords from chrome anytime without doing any long procedure. Here's the following steps on how to see your Facebook password through google chrome while logged in.
Go to Google Chrome of your smartphone or computer.
You'll see three vertical dots placed on the top right corner of your screen, tap on it.
Select 'Settings' and then, click on 'Passwords' option.
A list of accounts with appear along with passwords, find Facebook from this list or type it in the search bar placed above.
Click on the eye icon placed right in-front of the password.
Now, you will have to enter your device password for some security reasons.
After unlocking your device, you will be able to see your Facebook password.
Mozilla Firefox
Another easy way to see password of your social media accounts. Here's some easy steps for a Mozilla Firefox user to see Facebook password while logged in.
Open Mozilla Firefox browser on your device and tap on 'Menu' you'll see at the top right corner.
After that, go to Options and click on 'Privacy and Security'.
Select 'Saved Logins' and then 'Show Passwords'.
You can see your Facebook password will appear in the saved passwords list if it was saved on Mozilla Firefox.
Opera
If you are an Opera user, you can access your Facebook password from there also. Follow the same steps as explained above in the Google chrome and Mozilla Firefox method. When you'll tap on Privacy and Security option, go to 'Manage Saved Passwords'. You Facebook passwords will appear if it was saved on Opera.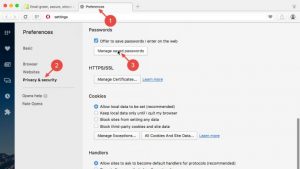 You can follow any of the methods explained above to see your Facebook passwords while logged in. Also, you can reset your Facebook password if you ever forget it. For that, you should have access to your email address and phone number linked to your account.