You all must be aware of what the word 'History' means. It is a subject you might have studied in your school life, but today we are not going to talk about any of that. Instead, we are going to explain it in social media terms. The popularly known socializing app called Instagram has an option of search in its app. By this feature, you can find any person on Instagram by typing their name no matter where they live, the main thing required is an account. If that person has an account on this platform, then you can search for their profile by typing their username in the search bar.
You can even see an account who has blocked you on Instagram. Instagram has a search history option too which stores all the history of your search whether its an account, a page, a Reel sound and so on. Today, we are going to talk briefly about this Search History feature of Instagram. There are many people who have put up a question if there's any way to see other people's search history on Instagram. Well, let's see if it is possible or not.
Can We See Someone's Search History On Instagram?
Search History is something which comes in high privacy matters of Instagram. It is a strict violation of Instagram's privacy policy to access someone's Instagram search history. So, the answer to your question is a straight NO. You can't access someone else's search history on Instagram but you can see your own account's search history.
Therefore, if you want to see someone's search history, you must have their login id and password so that you can access their account. Some paid tools like Snoopreport have been used by used by people to see other people's Instagram activity but it has also failed to show the search history. We do not recommend you to try any third party app or any informal method as it will get you in trouble and these actions are not taken lightly by Instagram. To know how to see your own search history on Instagram, follow the steps explained below.
How To See Your Own Search History On Instagram
Go to Instagram app of your smartphone and enter your username and password to log in to your account. If you do not remember your password, you can take help of saved passwords on your mobile or laptop.

As soon as you log in, you will land on the Home tab of your account. Here, you can see all the pictures and videos posted by the people you follow. Ignore this for now and tap on the small profile icon you can see at the bottom right corner of your screen.

By tapping on it, you will be taken to the profile tab of your account. Now, click on three horizontal line icon placed at the top right corner.

A list of options will appear on your screen with second option as 'Your activity' with a clock icon next to it. Tap on it.

You will find yourself on 'Your activity' tab having lots of options like: Time spent, Photos and videos, Interactions, Account history, Recent Searches, Links you've visited, Archived, Recently Deleted and Download your information. These options pretty much contain every activity of your account.

Today we are talking about Search history, so, click on 'Recent Searches' option indicated by a magnifying glass icon and you will be taken to Recent searches tab.

Here, you will be able to see everything you have searched on Instagram so far.
We have one more easy method for you by which you can see your own search history on Instagram. Here's how it goes:
Open Instagram app of your Android or iOS device and enter your login credentials.
Click on the search icon placed at the bottom of your screen and appearing right next to home button.
The explore tab will open. Here, you can see a search bar at the top of your screen. Click on it.
Once you click on the search bar, your recent search will appear below it.
If you want to see all your old search history, tap on 'See All' button you can see at the top right corner and you will be taken to 'Search history tab' which contains every search history of your account.
How To Delete Search History On Instagram
We talked about how you can see your old searches on Instagram but is there any way by which these can be deleted from your account? Yes of course, there is. You don't have to do much, just see the above steps we have explained. As soon as you are taken to search history tab, take a look at any of your search and you will find a cross 'x' icon next to these searches. Click on them to delete that particular search.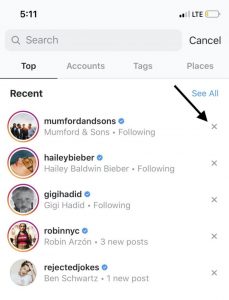 However, this might waste a lot of your time in deleting one by one. So, Instagram rolled out a solution for your problem. Just look at the top right corner and tap on 'Clear All' option appearing in blue letters. At last, confirm to delete these searches and you will be done. There are many times when people wish to have such options for their DM list too, so we have explained some tricks by which you can delete all your DMs also at once.