People still can't believe how technology has made so much progress these days. One such part of technology was invention of WhatsApp. It has been making its way in the list of social media platforms and is still believed to be one of the most demanded app. Being the most popular app these days, it tries to fulfil its user's needs by rolling out updates from time to time. With each new update comes a benefit for users, either the company fixes something in the app or rolls out new features. From texting to calling, everything can be accessed through WhatsApp. Now, you all can make groups and add as many people you want. If it ever gets deleted for some reason, you can even restore your WhatsApp group.
However, WhatsApp is a little different from other platforms. You all can login one Instagram account on multiple phones but you cannot do the same with WhatsApp. Although, there are some tricks how you can login one WhatsApp account on multiple phones at the same time. There are some similarities also between these instant messaging apps. Instagram's last seen can be hidden just like WhatsApp, people can have a profile picture on WhatsApp as well as on Instagram, images can be shared on both the platforms and so on.
As mentioned above, WhatsApp is a little different as well as unique from other apps. It does not allow you to log out from your account like you can do on Instagram and Facebook. You don't have to fill in any password to log in your WhatsApp account, all you have to do is, enter your registered number and fill in the OTP that you will receive at your number. Therefore, you cannot log out of your WhatsApp account like other apps. Now, suppose you had a very tiring day and don't feel like talking to anybody. And the constant WhatsApp messages keeps on annoying you. What will you do in such situation? You must be thinking of logging out your account. But, you can't even do that in WhatsApp. So, what else will you do? Did not get the answer? No worries. We are here to help you with a perfect solution for your problem. Follow the steps explained below and you will get to know it.
How To Stop Receiving WhatsApp Messages Without Turning Off Wi-Fi or Mobile Data
There comes a point in everyone's life when they feel like taking a break from social media platforms. Some reasons might include having a tiring day, fight with someone, want to give your mind some peace and so on. WhatsApp is everyone's most preferred app for texting but it can get irritating sometimes on getting constant messages from your friends.
In such situations, turning off your mobile data or Wi-Fi might help but it will stop you from doing other important internet required work. So, you should try disabling notifications. This way you will be able to use your mobile phone comfortably without getting any notifications flashing on your screen and you can concentrate on other things too. It can be done on both Android and iOS device. You can either turn off the in-app notifications or disable them from your mobile settings. We have explained both the ways below. Let's take a look.
Turning Off Notifications From The App
Go to WhatsApp of your Android or iOS device. If you are not logged in, fill in your number and login your account by entering the OTP you received.
For Android users– Click on three dot icon placed at the top right corner of your screen and select Settings.
For iOS users– Tap on Settings option you will see at the bottom.
Now, select 'Notifications' option which has a bell icon along with it.
For Android users– Here, you will see an option called 'Conversation tones' with a toggle. It must be green and turned on right now.
Tap on it to turn it off.
As soon as you disable the Conversation tones option, the colour of toggle will turn to grey and you will stop getting sounds of notifications.
Similarly, turn off the toggle placed in front of 'Use high priority notifications' option under the Messages as well as Group category. By disabling this option, your notifications will be stopped from appearing on your screen.
For iOS users– The first option will be 'Show Notifications', simply, disable it by turning off the toggle button and you will stop receiving WhatsApp notifications.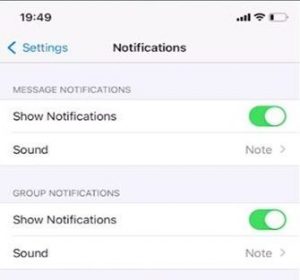 Turning Off WhatsApp Notifications From Phone's Settings
There are two ways of doing this method. Follow the steps explained below to know both of them.
For Android device
Open your smartphone and go to 'Settings' of your Android device.
Scroll down and find 'Apps' option. If there's a Search bar at the top of your screen, you can use it to search 'Apps' option. Most Android phones will have this option. But, some of you may have it as 'Manage Apps'. You can find this option depending on your device's Settings.
As soon as you click on it, you will get a list of your device's apps arranged alphabetically. Scroll down to find WhatsApp or you can search it with the help of Search bar. Tap on it.
At last, click on 'Notifications' button and turn off all the notifications.
For both Android and iOS device
Go to 'Settings' of your Android or iOS and scroll down to see 'Notifications' option.
Click on it and here you will find a list of your device's apps.
Find WhatsApp and turn off the toggle placed in front of it to stop getting notifications from this app