Facebook, the social media platform, has become one the most popular app available in different languages which connects people from all over the world. You can find any person on Facebook just by knowing their name. Since it has gained a lot of success over the past few years, it made many beneficial changes for its users to make the app more user friendly. Instagram came up with a very unique music feature which made it even more popular whereas Facebook is neither the less, it also introduced music feature for its users through which people can now add songs to their story pictures. Just like any other social media app, Facebook also has a blocking option by which you can block or remove any person from your Facebook account and they won't be able to see any of your posts again. Whenever someone sends you inappropriate messages or comments bad on your pictures, you can simply block them. People usually block their family members also to hide their profile from them.
Suppose, you two were close in the past but then got into a fight and you got blocked by that person. Now, what if some day you may feel like checking up on that person even if you don't talk anymore? What if you may want to see their profile? Well, just how you can see an Instagram profile after getting blocked, you can also check a Facebook profile if a person blocks you. In today's guide, we will explain some easy steps on how to see someone's Facebook profile when they block you.
How To View Someone's Facebook Profile When They Blocked You
Get URL Of That Person's Account
In order to do this process, you need to get URL of the Facebook Account who blocked you. For those who don't know what a Facebook URL is, it is the link of anyone's Facebook account and it looks like: www.facebook.com/xyz. Here, 'xyz' denotes the username of that person's account. Smartphone has become a necessity for this new generation. People these days do not even memorize anyone's phone number, they just save it in their mobile phones and whenever they need it, they can just search it up in their contact list. Now considering this, do you think they will remember URL of a Facebook profile? Obviously no. But, if you do remember, it will be of great use in the process and if you don't, we will explain some ways how you can get the URL.
Follow the steps below to know how to view someone's Facebook profile after getting blocked by them.
If you don't have the URL of that person's Facebook account, ask any mutual friend to copy it and send it to you. After getting the URL, copy it.
Log out of your Facebook account and from any other account which is logged in.
Then, open browser and turn on incognito mode.
Go to Google's home page after turning on the incognito mode.
There must be a search bar appearing on your screen, paste the URL that you copied before as explained in the first step and click on the enter button.
The first link will be of that person's Facebook profile and you can easy view their account from there. If the link doesn't appear, check if the URL is correct or not.
If this process doesn't work even after checking the URL and doing the steps properly, don't worry. We have explained some other ways of checking a person's Facebook profile if they block you.
Find Tagged Photos And View Profile Through It
Before proceeding on to the process, keep in mind, there are less chances of this process to work. If the person who has blocked you was close to you in the past, then you two must have some mutual friends. You need to find a person that you and the person who has blocked you knows and are friends with on Facebook. People usually tag their close friends or family while uploading a picture or video on Facebook.
All you have to do is, find that mutual friend's picture in which the person who has blocked is tagged. If you do not have any such friend or he/she hasn't uploaded any picture tagging the person who blocked you, then you won't be able to this process.
After finding the picture in which that person who blocked you is tagged, copy the URL of that mutual friend's account who uploaded the picture.
Now, repeat all the steps from the first method explained above. Turn on the incognito mode and paste the URL on search bar that you copied before of that mutual friend's account.
Then, open the link to their Facebook profile and go their photos to find the picture in which the person who blocked you is tagged.
Click on the person tagged and that link will take you to their Facebook profile.
Note: As mentioned above, there is no guarantee that this process would work. Also, if the mutual friend has locked their Facebook profile, you won't be able to access the tagged picture or any other information.
Use Google To Find Their Profile
This method is quite time consuming but it will surely work for you. If the above two methods didn't work, there's no need to worry or lose hope. Follow the steps properly as explained below and you will definitely find the profile you are looking for.
Open any search engine and type: xyz Facebook (xyz denotes username of the Facebook profile you are looking for).
After typing the exact name, click on the enter button.
Now, you'll get a lot of results for the same name that you entered. But, you can scroll down to find the profile you are looking for by checking the profile picture of these accounts appearing and their Facebook information.
As told before, this method is quite time consuming. In order to save your time, you can add details of the Facebook account you are looking for like: school's/college's name, hometown or any other information they have added in their Facebook account.
If you fail to find that person's account even after adding any personal detail or going through the list carefully, then that person must have deactivated their account.
Take Help From A Mutual Friend
This one is the most easy and straight up method. You can easily ask a mutual friend to send you screenshots of what's happening in the person's account you are looking for. They can send you screenshots of the pictures, story or any video that person has uploaded after he/she blocked you.
If you are close to this mutual friend, you can ask for their login details and can check the person's account by logging in to their Facebook account.
Create A New Facebook Account
If you do not wish to take help from any mutual friend, then this method will be the best for you. You can do it on both Android or iOS device and even on web. All you need to do is, make a new Facebook account.
Go to Facebook, log out of your account and click on create a new account. Rest you know how to make a new account. After filling all the necessary details, your account will be created.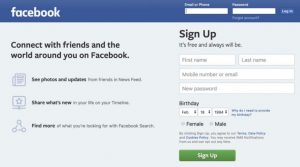 Now, search that person's account who has blocked you. If it is a locked profile, send them a request and you will be able to see all their information and pictures once they accept your request. Whereas, if it's a public profile, you can see their pictures and videos even without sending a request.