Instagram and Facebook have been topping the list of social media platforms. They have gained a worldwide popularity and are being used by everyone. Instagram's newly launched feature Reels is more in demand these days and is being liked by everyone which made Instagram even more popular. At the same time, Facebook is no less, it allows people to promote their business and achieve success. So, considering everything, these platforms have proved to be very useful in all matters.
Now, some of you might not know the English language and find it difficult to figure out what's written there. So, Facebook came up with a feature of changing the language wherein you can switch to any language in Facebook from English to the language you speak (for example, Hindi, Bengali, Urdu, Marathi and many more). You can change your regional language anytime on Facebook. On the other hand, Instagram has only Hindi language as an option. Therefore, you can change your language to only Hindi on Instagram. You can use Facebook and Instagram in any language you want whether its on app or desktop browser. Changing language in one device won't change the settings on the other device. In this guide, we will explain step-by-step on how to switch to other language on Facebook and Instagram.
How To Change Language On Facebook
You can switch to any language on Facebook. Here's the following steps how you can change your language on Facebook:
Go to Facebook app and click on those three horizontal lines you'll see at the top right corner.
After that, scroll down to find 'Settings and Privacy' and click on that.
Then, under the 'Preference' category, choose 'Language and Region' option.
Now, tap on the first button saying 'Language for buttons, titles and other texts from Facebook'.
Finally, choose any language you want to set from the options appearing.
Also, Facebook allows you to set language for your post translate.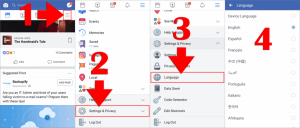 How Can You Change Language On Instagram
Instagram supports many language like Portuguese, French and many more but it lets you switch to only one language, that is, 'Hindi'. Follow the steps below to know how to switch to Hindi language on Instagram.
Go to Instagram app and click on the profile icon placed below.
Then, tap on the those three horizontal lines you'll see at the top right corner.
After that, go to settings and click on 'Account' option.
Lastly, tap on language and select Hindi language.
You can repeat the same steps to switch it back to English language.