Most of the social media apps these days allow its users to chat with other people. Their main motive is socializing which can be done by interacting with people across the world. WhatsApp, Instagram, Facebook, all these platforms have a DM feature which means Direct Messaging. This feature lets you send text messages, images, videos, pdfs and so on.
However, getting constant DMs sometime gets irritating and disturbing. Therefore, Instagram lets you control DM feature which will help you in disabling messages and you will be able to use Instagram peacefully without any disturbance. Some people prefer ignoring other's messages by leaving their message as unseen. But what if they ever open it by chance? It might seem rude to leave that person on seen and it will make things weird between the two of you. So, is there any way by which you can mark that message as unread? If you want to know the same, read this blog carefully and you'll get your answer.
Can You Mark Messages As Unread On Facebook Messenger?
Facebook has a lot of unique qualities which makes it so popular among this new generation. But, it hasn't rolled out any such feature of marking a message as unread. It has a function by which you can mark a message as unread for yourself but not for the sender. If you have seen their message then, that person will be able to check that you have read the message.
Although, you can mark a message unread for yourself and that person's chat will appear as unseen in your DM list. Let's see how it works.
How To Mark Messages As Unread On Facebook Messenger
Suppose, you are busy or you are not in a mood of talking to anyone at the moment. Someone texts you and you accidentally open their message. You might  be thinking of replying them later. But, what if their message goes down in the list and you forget to text them back? In such situations, you might want to mark their message as unseen so that you don't forget to reply when you open your DM list.
Therefore, we are gonna explain you some easy ways of marking a message as unseen for yourself. To know the process, follow the steps mentioned below.
On Facebook Messenger App
Go to Facebook Messenger of your Android or iOS device and login to your account by filling in the email and password of the account whose message you want to mark as unread.
If you do not remember your password, we have explained some easy ways by which you can see the passwords of all your accounts.
After logging in, navigate the chat which you want to mark as unread.
Now, you can either long press on the chat or  simply swipe it left. Then, a three horizontal line icon will appear on your screen, click on it.
From these list of options, tap on 'Mark as Unread'.
Once you click on it, that person's chat will be appear as unread. Remember- This will mark the message as unread only for you and not the other person.
On Facebook Messenger Website
Open any web browser and log in to your Facebook account.
Tap on the Messenger icon you can see at the top right corner.
You will be taken to the DM list of your account. From here, find the person's chat whom you want to mark as Unseen for yourself.
Once you find that person's chat, tap on the 'Settings/Gear' icon appearing right next to their name.
Finally, select 'Mark as Unread' and your work is done.
How To Read Facebook Messenger Messages Without Seen
People have a very busy life these days and replying to some silly conversations simply might waste their time. So, they wished to have a function by which they can see the message and the other person can't check that the message has been read or not. This way, the person can check if the message is important or not and will be spared from the useless talks too. Seeing these types of situations, WhatsApp rolled out the Read Receipt feature which helped a lot of people across the world. But what about Facebook Messenger? Is there any such trick or feature to see a message without letting the other person know? Yes, there is. Let's take a look at it.
Turn On Airplane Mode
This is one of the most common and easiest method. You can see a message on Facebook Messenger without letting the other person know by turning on the airplane mode of your smartphone. Just like WhatsApp Read Receipt feature, think of this method as a Read Receipt for Messenger. As soon as you'll turn on the airplane mode, your smartphone will automatically get disconnected to any sort of internet connection.
Wait for a message notification from Facebook Messenger and once you can see that someone has texted you, turn on your airplane mode.
Then, open your Facebook Messenger and click on the message you want to check without notifying the other person.
Read that message or take a screenshot depending on your choice.
Now, go back and turn on your mobile data or Wi-Fi.
Since you were disconnected to all sorts of internet connection the whole time, the other person won't be able to see that you have read their message.
Read Messages From Notifications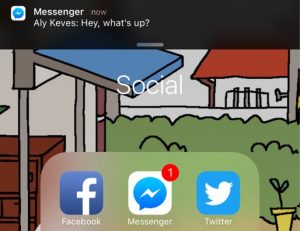 You can turn on your Facebook Messenger's notifications and then whoever will text you, their message will pop up in the notification centre of your device. From there, you can read that text and slide it to remove from notifications. If someone is constantly texting you, keep on sliding their message as soon as you read it otherwise all of those messages will pile up in the notification bar and you won't be able to see the whole message properly.
By doing this method, you will be able to read the message from notification bar and the other person won't even be notified until you open it.