Despite having many other popular contenders like Facebook messenger and WhatsApp, Kik is still popular. It counts millions of people among its followers. It is an exciting platform to chat with your friends and family. However, looking at the same old chat screen can get a bit boring sometimes. But, you can change this by choosing from the hundreds of chat themes available on Kik.
You can either choose the free theme or buy new ones on the app. But, you will need to buy themes using Kin, Kik's internal currency. Personalizing your chat themes can add a new flavor to your chatting world. Here's how you can earn Kin and spend it buying exciting new chat themes on Kik.
Kin – Kik's own currency!
Kin is a digital currency developed by Kik's team. It also functions on the Ethereum platform and has monetary value. This means it can be exchanged for real, hard cash! But right now, Kin is mainly active for purchases only within the Kik app's space and users. The developers at Kik, however, would like to see it grow and officially enter into the cryptocurrency market alongside the big players.
Want to earn more Kin? Here's how!
Kin can be earned by doing various tasks in the Kin Marketplace. In the Kin marketplace, under Earn Opportunities, you can see many options present. Users earn Kin by completing surveys, sharing services and experiences, or engaging with brands. However, you will b able to spend most of it on the app itself to buy emoticons, chatbots, and themes.
Other more exciting ways to earn Kin include quizzes and tutorials! You can even report any bugs you spotted while using the app or produce content on Kik to earn some easy Kin. Actively interacting with the online Kik community, in general, will also earn you some well-deserved Kin.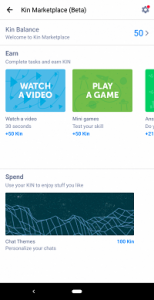 How do I use the free themes on my Kik chat?
Now you can customize your chat themes for each chat separately! Let's check out the steps for it below:
Choose the chat for which you want to change the theme.
Tap on the chat and select it.
Now tap on the group name or user name at the top.
Click on 'Change Chat Theme' to show the list of available themes.
Select your favorite from the themes marked 'Free' and click on Set Theme.
Your chat will now display the new theme. The above process is the same for iOS and Android users. This was the process to use free themes. In the next section, let's discuss how to purchase chat themes on Kik.
Steps to purchase chat themes using Kik!
You have earned and saved up enough Kin from the marketplace. Now, you would like to purchase those beautiful chat themes you have had your eye on for some time. Here's how you can go about it:
Purchasing themes through chat
Select the chat you want to change the theme for and click on their name.
Now, choose the 'Change Chat Theme' option to show the theme list.
The themes for purchase have a price quoted next to them.
Choose the theme you would like to buy and click on 'Buy.'
Now tap on the 'Confirm Purchase' option and complete your transaction.
You can now see that theme on the chat. It will be available for other chats as well. The next way is to buy themes directly at the Kin Marketplace itself.
Purchasing themes at the Kin Marketplace
On the main chat list, click on the Plus (+) icon and click on Kin Marketplace Beta.
You can see 'Spend Opportunities.' Here, select 'Chat Themes.'
Find your favorite themes for purchase, click on 'Buy' and then 'Confirm Purchase.'
Come out of the marketplace and go to the chat list.
Over here, you will be able to add the purchased themes for your chats, as shown in the previous section.
But both these options to buy themes are only available for Android users. iOS users will have to do with free themes at the moment.
Chat themes can add a new color to your old, boring world of online chatting. So go ahead and add some color to your chat using free themes. But if you would like to choose from a wider range of options, rush to the Kin marketplace right now! Save up on Kik's internal currency Kin, and buy your favorite chat theme from the Kik theme store or marketplace.
Kik's focus is mainly on the younger generation of users. So, most themes would resonate with Millenials or Gen-Z users with options from the gaming world or Anime too. Let us know what themes did you choose or buy from the store. Or how did you earn enough Kin to do so!