Vampires, pirates, ghosts, goblins, Batman, Sherlock, witches and Frankenstein – are to name a few of the favourite spooky characters you would find around the streets during Halloween.
Halloween is a wonderful time when you can be more active with your extravagant posts to gain followers and increase your reach. Upload some of the most creative Instagram reels and try to make it as spooky and eerie as possible.
In this article, we will help you know about some of the less competitive Halloween hashtags. Here are some Halloween hashtag suggestions that you can pair up along with cool captions.
Party it All Night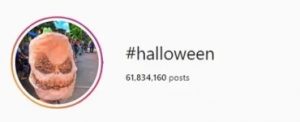 As far as the Halloween party is concerned, who can even pass up a chance to head bop to great music in the club? Spend the eeriest weekend wearing weird costumes while dancing and enjoying drinks.
#halloweenparty
#halloweenclubbing
#halloweennightout
#scarynight
#pumpkinparty
No Makeup Look
If you are a woman, we have a very simple trick to enhance your feed. Well, though it may sound silly, you can post a selfie of yours without adorning makeup. Yes, do not put on any makeup, just upload images on Instagram of your bare face and wait for how netizens react!
We understand that you may like to show the world your fabulous side, but it's fun to come out as you are. It will give you an idea of who is going to stick around after you reveal your bare side. Well, that is what really counts!
Jokes apart, Halloween is a celebration that lets you be creative with your posts. Moreover, there will not be any risk of ruining your image or offending anyone. However, we would suggest you not wear the overused Joker costume or the Harley Quinn.
#halloween
#halloweencostume
#spooky
#horror
#october
Address the Halloween Holiday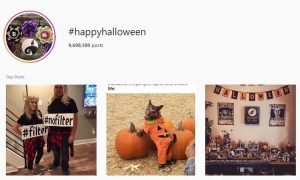 There are some basic hashtags suitable for posting to acknowledge the occasion. However, these are very basic hashtags that will make your post very basic.
Still, you have the scope to spice up these hashtags with creative captions or scary pictures. This twist will help you make these used hashtags also sweet and fetch you with good followers on Instagram.
#halloween
#halloween2022
#HalloweenNight2022
#HalloweenStyle2022
#halloweenhaunt
#happyhalloween
#trickortreat
#October
Play Trick or Treat Game
Do you have kids in the house or the kid in you is still alive? Then, Halloween holidays are the best part of the year! Play the trick or treat game by dressing them up or dress yourself in the scariest costume. Then, capture some interestingly eerie yet cute pictures and upload them with a witty caption.
Furthermore, Halloween is that day of the year dedicated to candies and more candies. Whether children or adults, there remains no bar on this holiday. So, put on your scary outfit and fill your buckets with candies. Don't forget to pair with fun and scary Halloween-related hashtags to round up your spooky post.
#halloweenbaby
#JustHereForTheCandy
#candy
#trickortreat
#NoTricksJustTreats
#skeleton
#zombie
#scary
#halloweendecorations
#halloweennails
Address the Scary Makeup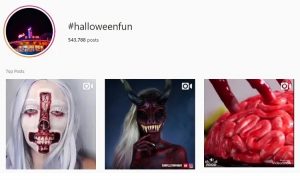 Halloween makeup is one of those things that everyone has a fascination with. So, when Halloween is knocking at the door, you need to take out all those fancy, bright and dark eyeshadow palettes to show your makeup skills. You can paint your face like a pirate or skeleton to a witch with popped eyes or anything you want. Overall, there is so much you can do with your Halloween night make-up. Scroll through the images available online to get inspiration. It would be hard to describe everything in just a few lines.
You can wear a plain white dress covering from top to bottom with just two holes for your eyes to be visible. This is going to be the perfect witch costume. What more could have been better if you pair it up with black boots and hats. For dressing like a zombie, wear a zombie mask that has blood-like stains. Whatever you choose to be like, dress up and post your best Halloween look with an interesting caption and hashtags.
Here are some fun Halloween hashtags recommendations that you can add to your post to increase the drama:
#halloweenmask
#halloweennight
#halloweenfun
#halloweenwitches
#halloweenspirit
#halloweencontest
#halloweengiveaway 
Final Thoughts
Halloween is that time of the year when you can shine extraordinarily. We are sure your Instagram followers are also excited to see you adorn the costumes of your favourite characters.
Enchant your followers with spooky, disfigured bodies and eerie sights. Well, we are, of course, talking about the costumes and not real humans of flesh and blood. The thought is in itself too scary!
Nonetheless, spice up your feed with some engaging Halloween-related hashtags. We are sure that they will love your new, scary posts more. Moreover, the Halloween time hashtags will add more flavours to it. Last but not least, the spookier you can make your post, the merrier your followers will be!