Nowadays, one of the widely most used instant messaging app is WhatsApp. It has recently added many new features to improve user experience. You can now transfer money to your contacts through WhatsApp. We will explain some easy WhatsApp tips and tricks in this guide which will be very helpful to users.
When you give your phones to your family or friends or when parents give their smartphones to their child and they accidentally open WhatsApp, you might want to hide your chats in such a situation. You can also archive a particular person's chat or group chat if they are troubling you without blocking them. Because, In future you may need the chat back and getting the chat back after deleting is time consuming process. So the best way is to do it Archive.
Most of the people already know about Archive Chat Feature Of WhatsApp by which one can hide a specific chat or a group conversation without erasing the chats.
Earlier, when you used to get a new message on WhatsApp, archived chats always appeared at the top.
But now WhatsApp rolled out a new feature in which archived chats will be kept aside and no notification will pop up on a getting a new message.
Here are the following steps how you can hide or archive WhatsApp chats without deleting them.
How To Archive Or Hide WhatsApp Chats Without Deleting Them
Open WhatsApp, select any person's chat or a group chat according to you.
Then, some options will appear on your screen like Mute, Archive, Pin and Delete.
Choose Archive option to archive or hide that chat.
Now, all your chats will be hidden in the archive section appearing on the top of your chat list. You can see your archived chats by clicking on it.
How To Unarchive Or Unhide WhatsApp Chats Without Deleting Them
Click on WhatsApp and then open Archived chats section.
Select the chat you want to unarchive.
From the options appearing on your screen, click on unarchive and it's done.
As WhatsApp never notifies on getting new messages from the archived chats, you can still get them by changing the settings. Here are the following steps how you can get notifications from archived chats.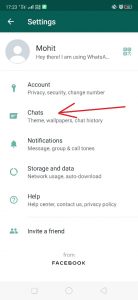 Open WhatsApp and go to settings.
Now, click on the chat section.
As you can see ''Keep Chats Archived'' is enabled, turn it off to get new message notifications from an archived chat. Similarly, you can disable it from there to not get any notification from archived chats.
However, there is one more feature, ''Disappearing messages'' by which WhatsApp deletes all your videos, photos and texts after seven days on its own.