Hashtags are essential to your Instagram post and while creating a instagram reel. It's more like a condiment to your favourite recipe. With the relevant hashtags, you can create good visibility and reach the target audience. When you use it to promote a certain event, the hashtags help you make a connection with your followers.
Now the question is, what hashtags can you use for your barbecue related Instagram posts? Can they be seen by a large group audience, or will they go unnoticed by the users? Learn more on how to create and share Instagram reels with the use of right hashtags.
A barbeque party is indeed something interesting to meet people who love grilled food. However, you may miss reaching out to those who like to speak over barbecued food through your posts.
Thus, check out the trending lists of hashtags below and open the gate of the barbecue world easily. All you have to do is sell your label and maximise your reach. People love to see videos and pictures of food and keep salivating to meet their cravings. This is why ASMR videos and Instagram food posts are going viral all over the internet world.
Common Barbeque Hashtags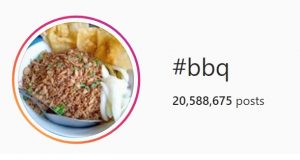 It's time to explore some of the most popular barbeque hashtags Instagram users follow. The primary point is to have the ability to define what barbeque is? One of the basic options is to go with a no-brainer hashtag like #bbq.
However, this is not the right way to reach out to the large mass. There are presently millions of posts on Instagram having the same lame hashtags. Nowadays, everyone uses Instagram enthusiastically, and when it comes to celebrating barbeque nights, how can they lag behind?
So, among them, it is difficult for you to stand out using a basic barbeque related hashtag. If you use a basic hashtag, you won't be able to attract new viewers and followers to your foodie posts.
You may even like the idea of using the main barbeque hashtags with a twist. Yes, mixing up barbeque related hashtags may help you reach more and more users. Some of these less competitive bbq hashtags with their number of usage are as follows:
#bbqporn (259,000)
#bbqribs (286,000)
#bbqlovers (127,000)
#bbqs (114,000)
#bbqnation (96,000)
#bbqsecrets (5,000)
If you can find a creative way to use the main hashtag by pairing it with another term, your hashtag will stand out from the rest. Most importantly, it is a great idea to minimise the excessive competition while enjoying the popularity.
Besides, you can also try out an easy way out to be on the trend. Just add an emoji or an "-s" at the end of the used hashtags. These unique versions of the most used words are not very competitive like their counterparts.
Some other unique ideas of Bbq Hashtags are:
#bbqsauce
#bbqparty
#bbqtime
#bbqseason
#bbqexperience
#bbqsmoker
#bbqbeast
#bbqlife
#bbqfamily
#bbqpitboys
#bbqaddiction
#bbqpitmasters
#bbqemcasa
#bbque
#bbqn
Stand out with Specific BBQ Hashtags
Grilled food has ardent followers around the world. People from all over the world love to binge on them. Use some specific BBQ hashtags and let the taste buds of your viewers dance! By specific hashtags, we mean to identify a particular thing that is highlighted in your post.
Is your post about grilled food or the BBQ party? Where are you partying, and what role are you adorning for the night? There are many questions that you can answer by using the right bbq related hashtags.
Mention the Location
It is best to mention the location of your barbeque party. You can allow your Instagram followers to know your site with an additional location-identifying hashtag. For that, consider putting hashtags like #beachbbq, #lawnbbq or #backyardbbq. Plus, tagging the location of your post can increase the engagement rate by around 79% among the followers.
Mention the Season of the BBQ Party

In addition to your bbq party location, you can identify the season in which you are socialising over a barbeque in the hashtags. For being a part of a Barbeque party, you don't need to wait for a specific season. Nonetheless, many people like it during summertime.
So think not twice to identify the season in your hashtags. Let it be full of fun and excitement.
#ThoseSummerNights
#ThatSummerFeeling
#ThatSummervibe
#SummerStateOfMind
Foodie Hashtags
When you are talking about grilled food, there is a whole kingdom you can add to your conversation. Instagrammers are always ready to show love and support exciting food posts. So, apart from #food of #foodporn, you can add #foodgasm, #foodlove or #foodfoodfood to cut down the competition. Furthermore, you can put in food-specified hashtags like  #grilledchicken, #grilledshrimp, #bbqmeat, #bbqchicken, #bbqribs, #grilledfish, #grilledveggies, etc.
Describe Yourself
Let your followers know a little more about yourself with the post. Try to add hashtags like #foodgawker, #bbqking, #bbqaddict, #mixologist, #foodie, etc.
Final Thought
If you use the right hashtags, your barbeque post can attract a massive crowd, thousands of shares on your instagram posts, and increase the list of your followers. Remember, everyone has their unique style of posting and adding hashtags.
Do not go overboard with hashtag usage. The selection of five less competitive hashtags will help you mark a place in the world of barbeque posts. Just keep them short and no confusion.