Instagram, the meta platform, has been gaining so much popularity since its launch as it is available worldwide with different languages. From a kid to an old person, everyone has an account on Instagram, it has proved to be very helpful in so many ways. The fastest and securing instant messaging app has been making its progress with each coming day by launching various features which made people's lives easier and better. The app has become a living for many people. They show their talent and influence other people which helps them in making money. Instagram's features made these user's posts and stories more interesting by offering the music feature.
Sometimes, while chatting on Instagram, you get in an argument or a fight with the other person and may want to block them from your Instagram in the heat of the moment. You might want that person to completely get out of your sight as mostly you start calming down when the person who made you angry is not in front of you. Being a human, you can get offended when someone crosses their limit and it happens with almost everyone who has a short temper. But, blocking is not a good solution. Anger can make you do things that you might regret afterwards. The other person will feel unjustified and it will make things even more weird between the two of you. What if you may want to talk to them again when you cool down? What if you may want any help from that person in future? Now, to rescue you from getting in such situations we have explained some easy tricks how you can hide someone on Instagram without even blocking them.
You can mute their story and posts, restrict their account and also hide you stories from them so that they cannot see what you are posting. Today, we are gonna talk about all these tricks in our guide.
Should You Hide Someone Or Block Them On Instagram?
Instagram provides high privacy to its users, whenever someone harasses you or irritates by constantly texting, you can simply block the person. By blocking, the other person won't be able to see any of your highlight, posts, reels, stories and so on. As the other person can access your profile, read all your comments, can text you anytime, after blocking him/her, none of your information will appear on their screen.
They can't even find you in the search list after getting blocked. They can open your profile through through your DM, but only your username will appear on their screen along with three dots placed at the top. These three dots will present many options when they will click on it like Report, Block, Restrict, Hide your story, Copy Profile URL, Send Message and Share this profile.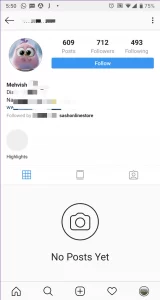 You must be thinking why does it have Send Message option. There's no need to worry, even if they try texting you, you won't get any message from them. There are some tricks to view profile after getting blocked. They can only contact you by trying such tricks.
Now lets talk about your account, you will not be able to see any posts, stories of the person you blocked except for their bio and profile picture. You can't text them unless you have keep them blocked. If they have a public account, you can stalk their account anytime you want by unblocking them.
This is what happens when you block someone on Instagram. Now, it depends on you if the person who annoyed you deserves to get blocked or not. And if not, lets talk about how you can mute them on your Instagram account so that their message, post or stories does not appear in front your eyes and you does not get bothered.
How To Hide Someone On Instagram Without Blocking Them
Mute Their Stories/Posts
This method has proved to be very helpful and is very common these days. There are some people on your Instagram who never gets tired of updating their stories and keep on uploading posts and stories whenever they go on a vacation or to an event. This sometimes gets irritating and you may want their stories or posts to not get shown in your feed.
Now, you obviously can't tell them to not upload their videos and pictures but you can secretly mute them and their posts/ stories will not be shown in your newsfeed. Unless you tell them yourself that you have muted their stories and posts, there's no chance that the other person can find out about this.
You can easily see their stories anytime by going to their profile and opening their stories.
How To Mute Someone's Stories/Posts On Instagram
Go to Instagram of your Android or iOS device and login to your account.
Open the profile of person whose account you want to mute. You can either search their account or open it from your newsfeed.
Tap on the 'Following' button you will see under their bio right before the 'Message' option.
Four options will appear which says: Add to close friends list, Mute, Restrict and Unfollow. Choose the 'Mute' option.
Now, you can either mute Story, Post or both of them. Select any of the options according to your choice and their stories, posts will not
get in your way anymore.
Restrict Their Account
Open Instagram on your smartphone, fill in your details and login.
Go to the person's profile whose account you want to restrict. This can be done by either typing their username in search bar or by opening it from your newsfeed.
Click on the three horizontal dots placed at the top of your screen along with the bell icon. Or you can tap on the 'Following' option placed under the bio of that person's account.
At last, tap on 'Restrict' and that person's DM will be transferred to message request. It won't be shown in your DM list now.