Snapchat is a social platform that encourages users to create more and more content than they can actually consume. Among its other impressive features, Snapchat offers impermanence in the content. Having said that, you may sometimes wish to go back again to see the memory that you, yourself or someone else had shared.
Different Ways to Recover Older Snaps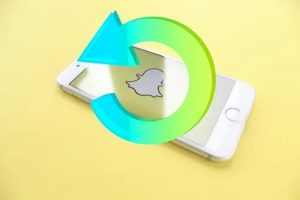 Although Snapchat is an app where your shared moments are impermanent, two ways can help you retrieve your older snaps. Taking a screenshot of snaps is a common alternative to keeping them. However, you cannot just save the stories by taking a screenshot of them. Snapchat notifies people whenever someone takes screenshots of their snaps.
Nonetheless, here are some ways to capture the memories without letting the senders know about them.
Check out Your Snapchat Memory Folder
Before you pull your hair to find ways to review your shared memories on Snapchat, you should check out your Snapchat memories only. First, open your Snapchat and then go to the cards icon, which is on the left side of the record button. Now tap on it to check your Snapchat Memory folder.
If you find what you have been looking for is good, otherwise, we have more ways to review your older Snapchats.
Steps to Recover Older Shared Snaps on Android Devices
You might be reading this article because you want to review an older snap that has vanished. Though Snapchat claims that when the snaps expire, it automatically gets deleted from the app, it is not like that.
The older snaps only go deep into the cache of your mobile phone. They do not get completely destroyed. All you have to do is connect your mobile phone to the computer using USB and click on the phone's drive to open it. In the storage, click on the data folder that is generally located at the top of the Android folder. Here you will see cache data of all the apps you use.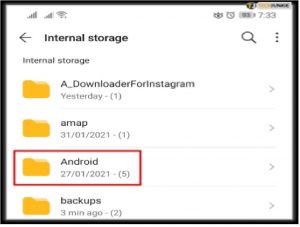 For you to track it down easily, look out for "com.snapchat.android" to get the cache folder. You will find another folder titled "received_image_snaps." In the received_image_snaps folder, you will be able to find all your snaps that are still present in the cache.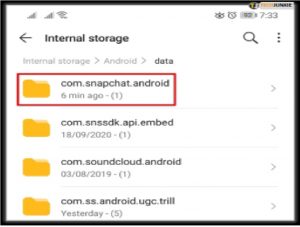 Though you can get the access, their file type has been revised to the .nomedia extension. If you wish to see the files, which we are sure you do, download another application.
The StudioKUMA .nomedia Manager is a third-party application that assists you in reformatting your files.
SaveStory –
SaveStory is an app that does not mandate you to log in to your Snapchat account. Plus, it doesn't even notify or sends a reminder to Snapchat that you are using it.
Hence, this makes the use of this app super easy and confidential. With the help of this app, you do not have to be bound by only taking screenshots. You can easily capture pictures and videos from stories. Thus, you can check old stories. However, it is only exclusive to Android users.
Steps for iPhone Users to Recover Your Older Snaps
If you are an iPhone user, you can easily find your older shared snaps with the help of a recovery tool like UltData. This is accessible for both macOS and Windows users and offers three distinct ways to restore the data. So, download the utility, and after installation, connect your mobile phone to the computer to initiate. You will find three options- Recover from iOS Device, Recover from an iCloud backup file and Recover from an iTunes backup file.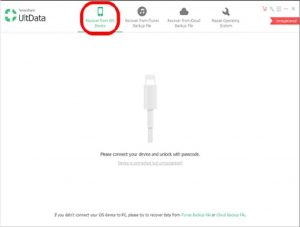 You should choose the first option that is Recover from iOS Device, to recover your snaps faster. Plus, you can also manipulate it to avoid your Call History. After clicking on the "Start Scan," it will complete the process within a minute. Lastly, select the files from the explorer window in the UltData and click on the "Recover" option and save them in the chosen location.
iOS Screen Recorder –
Although the iOS Screen Recorder is not exclusively used for the Snapchat app, you can utilise this app to complete your job satisfactorily. This exclusively iOS app helps to record what comes on your screen. Furthermore, it makes a video file that enables you to access your memories later.
Besides, the set-up of this app is also very simple and easy to use. As a result, you can use it to record the snaps while you view them. Simultaneously, it will record everything you see on the screen.
Download the Snapchat Data
This is not precisely a method to recover your older snaps, but you can find the relevant snaps data right from the Snapchat servers. So, follow the simple steps to download your Snapchat data:
Log into Snapchat and go to the top to click on your profile icon.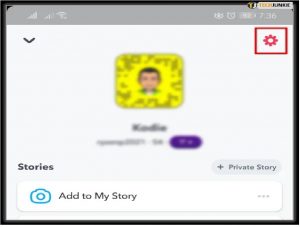 Tap the gear option to open the Settings, where you will find "My Data."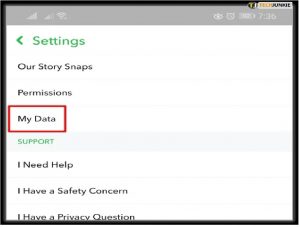 Tap the Submit Request option and wait for an email. In the email, you will get the download link. Click on it and start recovering your snaps.