Cyberpunks are stalking and stealing our identification to deceive us. Many think that Instagram is a much safer place than other social media sites as it is a place where people only post their pictures, stories and reels. Privacy is not only just hiding last seen, there is lot of things comes in privacy.
There has been a report of around six million Instagram account hacking in 2017. Within a blink of your eyes, you can compromise your Instagram account. The hackers mainly show interest in this social media account to acquire your date of birth and other security-related answers needed to access another site.
Here are some ways to can find whether your Instagram account has been in control of the hackers or not. Along with this, we will tell you about some measures to safeguard your Instagram handle against cyber hackers.
How to find if others have access to your Instagram account
To know whether your Instagram account is being hacked, pay close attention to the activities happening on your handle.
Keep an eye on the odd activities
The most evident sign if someone else is accessing your Instagram account is to see unusual activities like approval of follow requests, following unknown people, posting, or DMs being sent that isn't done by you. This is a solid indication of your account being hacked. 
Emails from Instagram about changes you did not make
Instagram does not directly change anything to the accounts. They send an email if the user requests a change in their account to the recorded email address for verification before making any change. If you receive emails regarding the same when you haven't created any change, then it is likely that your account has been compromised.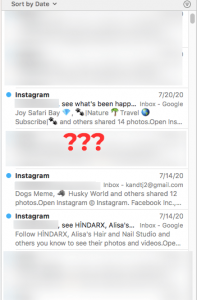 Note that whenever you see this type of email, immediately change the password of your Instagram and other accounts having the same password. Also, refrain from following the links attached to the emails. Many times, these links are sent for phishing. You must directly log into your account and secure it by changing the older password.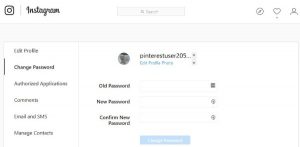 No access to email
If you are stuck in a situation where you have no access to your email, just click on the "Settings" option followed by "Emails From Instagram." You will get to check if you have somehow missed a company security email even though you can't access the email.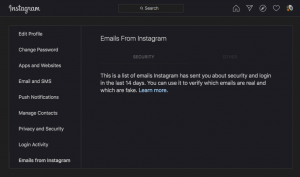 View account activity history
Do you know you can even review your account activity history? Simply go to the settings and click on the "Privacy & Security" option. After that, select "Account Data," where you will find several options to look at your information. It is better to start with a password and privacy changes.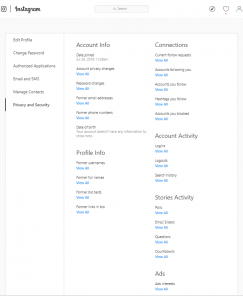 Examine your login history
You can check the history under the Account Activity page. Though your login history only shows the basic login date and times, still you know when you have used your Instagram account. If you find something fishy in history, change your password immediately.
Securing your Instagram account
As Instagram permits many logins through several devices simultaneously, it is important to protect your account.
Change Instagram password
If you doubt that someone else has access to your account, immediately change the password using the following steps.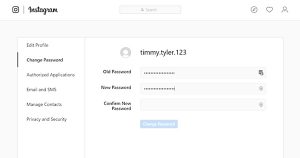 Log into your Instagram account.
Under "Security," tap on the change password option.
Enter your present password.
Enter Your New Password and confirm.
Save the changes with a click on Change Password.
Immediately after you change your password, all of the ongoing Instagram sessions will be over. Hence, someone using your account will also be logged out.
Always choose a difficult password that is tough to crack. Cyber experts suggest the users choose a combination of a minimum of 8 letters, special characters and numerical figures to set passwords.
Turn on the Two-Factor authentication
Turn on the two-factor authentication on your social media accounts as it only allows you to log into your account. Turning this option on ensures one cannot easily access the account without a confirmation code.
Go to your Instagram profile.
Under setting, click on the security.
Scroll down to find the Two Factor Authentication.
Click on the "Get Started" button. For using this option, you need to link your phone number to your account.
You will get recovery codes that will help you regain your accessibility.
How to regain your hacked Instagram account
Instagram offers a feasible system to recover your account.
Recovery at the point of change
You can catch the hacker in real time if you get the email from Instagram soon. Press on the "revert change" link to undo the hacking attempt and change the password.
If the hacker has already changed the password, the only way is to report the Instagram account as stolen.
Verify your identity
You will get an email from the Instagram security team to verify your identity. After verification, follow the specific information mentioned by the team to recover your account.
Will I be logged out of all my devices after account deactivation?
If you choose permanent deactivation, you would technically be logged out of all the devices. However, if someone knows your username and password, they can reactivate your account. So, change them before you deactivate your account.
Can I know who used my account?
You wouldn't get to know unless that person was close to you. You can only know the location of the account login, but if the hacker uses a VPN, you might never know their real location.
Why my account does repeatedly gets hacked?
Firstly, it happens more if you have paid followers. Next, someone knows your email and phone number. It is better to update your personal information and change your password.