Instagram is a simple, creative and fun app which was introduced in our lives in 2010 and became a part of it really quickly. The app was made available for both Android and iOS users. Users can even access Instagram through its web version. Ever since it was launched, many social media apps have tried to beat it but at last failed. Instagram has been growing its demand day-by-day by introducing new features which made users happy and satisfied with the app.
The app is more than just a photo sharing app. It allows its users to create their own accounts, follow other people and gain followers. It provides a high security to its users, they can have a business account, a creator account, a private one and so on. It even provides Instagram users an option to hide their activity status whenever necessary.
Apart from these, people can share multiple photos, share stories which remain for 24 hours, go live, and most importantly chat with any person they want. Users can enjoy instant messaging through Instagram. If you ever get irritated by someone and don't want to see them in your DM list, you can even restrict them. By this, their account won't be blocked and you still won't be able to see their messages in your DM list.
If you are texting a person who is following you back, your message will appear in their DM list whereas if that person isn't following you back, your message will straightly go to that person's DM request list. In order to know if that person has declined or accepted your message from the request list, you need to follow the methods explained below. Let's take a look on the following methods.
How To Know If Someone Declines Your Message On Instagram
Instagram is a platform where people can text anyone. As mentioned above, if you message a person who is not following you, your message will go directly in their message request list. Now, it depends on that person if they want to accept or decline that message.
Sometimes, people find their old friends on Instagram and text them in order to get in touch with them. Now, what if that person doesn't recognize you and declines your message? In such situations, you may want to know if that person has declined or accepted your message request.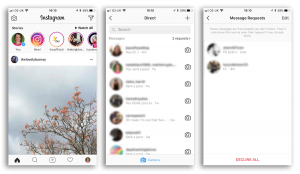 However, we are very sorry but there is no such solution for this problem. Nobody has ever found a way to know if any person has accepted a message request or not. Lets find the reason behind it.
As we told before, Instagram is a large platform which respects its users privacy and maintains high security. This is the reason why no one can know if a person declines your message request. You can not even know if they have seen it or not. Such high privacy makes Instagram more unique and popular. Because of such features, people can even hide their posts and stories from people.
Although, you can easily find out if a person has accepted your message request or not. Follow the steps explained in the next method to know how to find out if someone accepts your message request on Instagram.
How To Know If Someone Accepts Your Message Request On Instagram
This method works on both Android and iOS device. Web users can also enjoy using this process. Go to Play Store or App Store of your smartphone and download Instagram. If you are using web, go to official site of Instagram.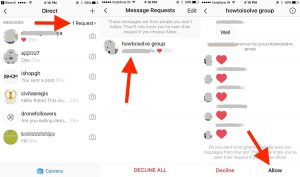 Open Instagram and enter all your details to log in your account.
It will open your Instagram home page which is the timeline of your account, here you can scroll to see new posts and videos uploaded by the people you follow.
After that, click on the message icon placed at the top right corner of your screen to see all the messages sent and received. Or, you can simply swipe left and it will open the DM section of your account.
Now, all your recent and old conversations will appear here, you can open any of them and start conversing with anyone.
If any of your message request gets accepted, it will appear here. You can check it in the DM list.
Whenever you want to text anyone who is not in the DM list, just simply tap on the Search bar placed at the top and type that person's name there.
You will be able to see 'Seen' written along with time when that person saw your message right under the person's username in the DM list.
You will also be able to see 'Seen' under your last text while conversing with a person.
This way you can find out if a person saw your message or not.
Frequently Asked Questions
Q1. Will deleting a person's whole chat, delete those chats from other person's account too?
Ans. You cannot really delete every chat from both the sides. If you delete the whole chat of anyone from your DM list, it will still remain in their account. But, if you 'Unsend' any of your text, it will be removed from your chats and from theirs too. Sometimes when people get into a fight, they might abuse while texting or message anything wrong. In such situations, they might want to remove those message from both the sides. This is why Instagram rolled out the 'Unsend' feature by which the message will be removed from both the sides of chat.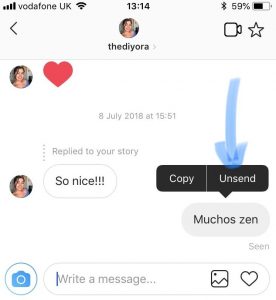 Q2. Why did my friend's chat suddenly disappeared from my DM tab?
Ans. The reason behind why you can't see your friend's chat is that either they have blocked you or they have deactivated their account. If you didn't delete that friend's chat by mistake, then these two can be only reason for disappearing of chat. Whenever a person deactivates his/her account, their chat disappear from every account they have ever conversed with.