Instagram has become increasingly popular amidst not just the younger generation but is immensely loved by kids and the older lot too! It's a great way to connect with other people, including celebs, absolute strangers, and obviously friends and family members.
Most people maintain a private account and open another page for their hobbies/interests. For example, I may have a different private account on Insta, whilst maintaining another public age showcasing my art skills to the world. If this resonates with you, you have landed on the right page. This article will tell you how to login to multiple Insta accounts. You can create and switch between five separate accounts at max.
How you can create a new Instagram account
Before adding a new account to your device, you first need to create the account. Here we are assuming you already have an account. Simply log in to that account and follow the below:
Open your profile page.
Click on the "Options" icon denoted by three horizontal bars.
Click "Settings."
Click "Add Account."
Now tap on "Sign Up."
Here you can choose how you want to sign up. If you have already logged in via your Facebook account for your main Insta account, you cannot choose to sign in via FB again.
Enter the required information for the method of "sign up" that you have chosen.
If required, verify the account.
Enter the profile information upon receiving the prompt.
Now create a unique username and ensure it is different from your main or other accounts.
You are now logged in to your new Insta account. Remember that you cannot access other followers and posts when you are logged in under the new account.
How to add an existing account?
One part of the big puzzle is to create multiple logins. Once you have created the login, the next is to link this to your other accounts. This will only make it easy to switch between different accounts without re-entering your login information.
Visit the profile of an Instagram account.
Click on the "Options" icon.
Tap on Settings.
Click on "Add Account."
Now, enter username and password of the account that you wish to add. Please remember, this should not be the account you are logged into at present.
Using this method, you will be able to connect five different accounts at max to the same Insta account.
Enable the push notifications
If the push notifications have been enabled in your existing account, you will observe updates related to likes, new followers, comments, and others. But how would you know which account these notifications are related to? Instagram states that any account that will have push notifications turned on will be notified. Try your best not to get confused between the notifications. You can enable them by following the below steps:
Visit the profile of the account in hand.
Click the Options icon.
Tap on Settings.
Click on Notifications.
Press "Push Notifications."
Adjust the preferences for notification.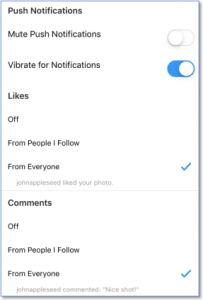 Switch between accounts – The app
Once you have created and linked all the accounts in question, you can easily switch between the profiles. The Insta app has kept it simple to switch; just click the profile icon in the corner at the lower right-hand. Next, click the username present at the screen's top. Now, tap on the account that you would like to manage.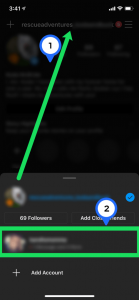 Switch between accounts – Desktop
If you are using Instagram via your desktop, unfortunately, you do not have the simple switch option as present in the app. So, what to do if you have to swap between accounts?
First, click on the profile icon and select the option to logout. Confirm that you want to logout. Next, click on the "Switch Accounts" option present at the web page's bottom.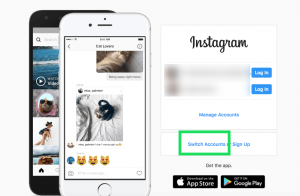 Login using the details of the account that you want to manage. Now your account will be saved to the web page. When you visit Insta on the same web browser, you simply have to select "Log In" on whichever account you would like to access.
Account recovery
You need to be cautious if you have linked all your Instagram accounts to the same email ID or phone number. This is because you could face problems if you have to recover one of those Insta accounts in the future.
If Instagram as an app gets confused about the account you're trying to access, then it will help you to reset the password for one account while you may be trying to access the other. For this reason alone, you should set up a unique phone number and email ID for every Instagram account.
Delete or remove an account
Removing an account on Instagram will still give access to other users to view your posts, and the good part is, your account will not be deleted permanently. Follow the below steps to remove an account:
Switch to the account that you wish to remove.
Scroll down and simply tap on "Log Out of Account."
You can also choose to "Log Out of All Accounts" if required.
Now coming to the delete option. If you want to delete an account permanently, it is pretty easy to do it on Instagram.
Go to Insta's "Delete Your Account" page.
Login to the account that you wish to delete.
Select the reason as to why you want to delete the account.
Enter your p/w and tap on "Delete My Account."
This cannot be done from inside the Insta app.